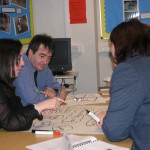 I particularly enjoyed meeting up with colleagues and sharing experiences.
I found the day not only valuable for the support groups, but also in terms of my teaching practice.
Enjoyed day very much, very interesting to learn about different conceptualisations of intelligence.
Interesting input on self-esteem and motivation – all teachers would benefit from this input.
Enjoyed learning new information and skills and speaking to others who are working with groups.
Again it was enlightening and learning at another level. You really astound me as to how you can always shatter my boundaries and make me reset my parameters. Thank you.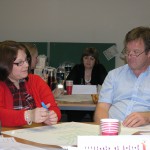 Again a valuable day. Excellent bringing together of all the theories for a greater, more comprehensive understanding.
Enjoyed very much the excerpts/video of specialists in field. If only all teachers (esp. the ones with negative/control classrooms) could see it all.
Once again, the day was extremely informative, relevant and enjoyable. Passed so quickly!
Really beneficial to my understanding of intelligence, self-esteem and motivation especially in terms of delivery of support group material.
You do a wonderful job of pulling together key information from the main theories and presenting it in a digestible form.
Very relevant – thoroughly enjoyed my time at all INSET days. You are an excellent presenter.
Interesting mix of theory and practical implications and good discussion.
I enjoyed the day. Time always seems short during valuable discussions.
Good balance of presentations, video clips, activities, moving around!
First class.
Very good as always, Joan – with light hearted humour dotted here and there – essential for sanity, working with SEBD pupils on a daily basis!
Day just speeds past – pace of delivery and reflection good.
Once again, excellent delivery and good balance between activity and theory.
As previous days really, just excellent.
I fully plan to repeat this work with other pupils – in fact, I have already identified some children who would benefit.
I hope you get the funding, to take it to lower primary. If I can support in any way ask. Excellent as always.
Just excellent.
Feel privileged to be included in this course. Excellent quality of resources.
Thanks to you Joan and your team. A pleasure!
Another excellent training day – a real pity its the last one!
It has been a pleasure – Can't wait to spread the word – would be so beneficial to all teachers – if funding can be found.