Professor David Perkins, Graduate School of Education, Harvard University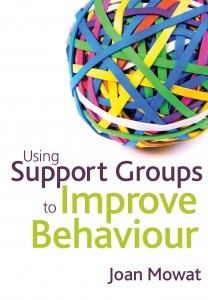 Joan Mowat adapts ideas about understanding, transfer of learning, and theories of mind to help restless students deal better with their responsibilities toward others and themselves.
Robert Gibson [former Head Teacher]
This book manages brilliantly to combine the theoretical with the practical. Downloadable lesson notes on the CD are supported by a clearly argued and well documented rationale. Not only has the author done the reading and carried out the research but nothing is proposed for use that has not been thoroughly trialled in school. Some people might be tempted to use the material to achieve a 'quick fix'. To do that would be to abuse what is a very insightful and ethical work which has as its central tenet the need for respect for the individual. This is essential reading for anyone involved with or interested in teaching – and not just those working with the awkward squad. Its insights into dealing with young people could in fact be extremely useful to parents, youth workers, social workers. I do recommend this book for further investigation.
Brian O'Hanlon [Behaviour Support Teacher]
Everything you need to start and run pupil support groups; from powerpoint presentations to photocopiable resources with precise and clear instructions.The difference in the pupils' behaviour was remarkable. But don't expect results overnight; remember it took the pupil years to get to where they are. However behaviour results over time have been noticeable and have been sustained. Highly recommended.
Times Educational Supplement, June 13, 2008
In 'Using Support Groups to Improve Behaviour', Mowat provides a valuable and comprehensive guide to the setting up,running and management of Support Groups as a whole-school initiative. Drawing on her own experience of 28 years' teaching and the successful introduction of support groups in a number of schools, Mowat guides the reader through the whole process of implementing support groups, from the preliminary meetings with staff and induction of support group leaders, to discussion with pupils and parents regarding their inlusion within the group and the role such groups play in managing pupil behaviour. The accompanying CD-ROM provides all the necessary administrative documentation needed to implement the scheme, eg. letters to parents to explain the role of support groups, and powerpoint presentations to introduce staff to the initiative. Hpwever, all of the materials can be used selectively and substituted for the school's own. Each chapter begins with a resume of what areas are to be explored within that chapter, and ends with a clear summary of the issues discussed. There are relevant 'reflection points' throughout each chapter, which could provide useful discussion points for use within staff-training. Mowat also provides a clear explaination of the theories which under-pin support group work, and supports the discussion with relevant case-studies and findings from her research findings. Also included on the CD-ROM are all the teaching materials, (lesson plans for the support group leaders and pupil resources) which can be used alone or supplemented or adapted by the school as necessary, which means that the book can be used as a completely stand-alone resource. The schemes are suitable for use with primary (upper KS2) and secondary pupils, and many of the resources and activities could be adapted and utilised outside of a support group setting. For example, class-teachers might wish to use certain activities to address particular behaviour issues with individual pupils, and some of the resources could also be used to compliment PSHE activities on a whole-class basis. This book would make an invaluable hand-book for anybody in a pastoral leader-ship role, who is interested in the organisation and setting up of support groups within a school setting.