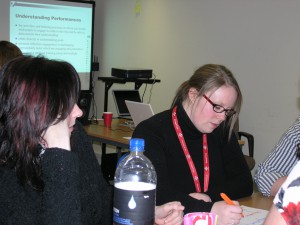 The evaluation of INSET supporting the project was highly favourable indeed. On a range of 52 indicators evaluating aspects of the project, it was rated by Support Group Leaders (N=26) as being the most effective aspect of the project, with a rating of 4.15 (out of a possible 5 point scale).
To view the evaluations of the INSET days please click on the links below:
If your local authority or school would be interested in INSET provision on the Support Group approach or any other provision relating to:
teaching for understanding and for transfer;
inclusive practice;
promoting positive behaviour/school discipline;
supporting pupils experiencing SEBD;
multiple intelligence theory and/or emotional intelligence
please contact me at joan.mowat@strath.ac.uk  and I would be happy to discuss it with you.